An Ode to the Jeep of Doom
Well friends, the time for the Jeep of Doom came this weekend. No, it didn't break down or die. Probably in my life it will be the most reliable car I've owned. As far as cost went I probably didn't spend $2000 on abnormal repairs over our seven year run together. This was the Jeep I got shortly after I started dating my wife, and it's service has been phenominal. Even when I was driving 40 miles a day to work it answered the call plugging away relentlessly mile after mile. Yes friends, the Jeep of Doom has no equal. However, it's no longer in active service. The Jeep now rests behind the house and will only be called upon for trips to Lowe's, Home Depot, and probably on days when we take the dog to the park, or on fun summer days when the day calls for a topless blast to work and back. I'm sure the Jeep appreciates the rest, and knows that it's better for it to live out the rest of its days as back up to the rest of the fleet. I'm sure whenever called upon the Jeep of Doom will rise to the occasion with the same joy and strength it's had for the first 10 years of it's life. Last night the wife and unleashed the freak (that's reference to an ad). Actually, I think we landed a great deal on Raul's transportation for the next six or seven years...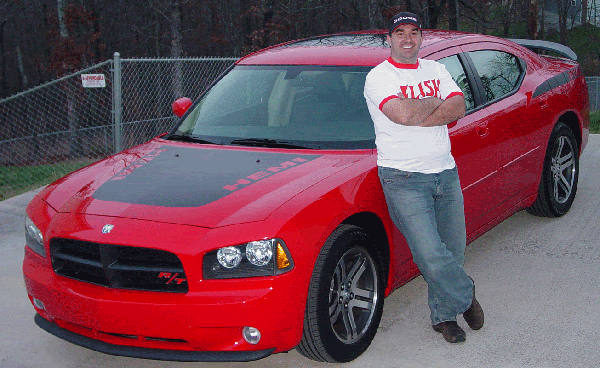 A 2006 Dodge Charger Daytona R/T! My rum running homey has been working as of late but I e-mailed him some pictures to see what he'd think and I get the response - "Does it have a Hemi? Bitchin." Yes, it has a Hemi and it is Bitchin. I've driven it to work three days this week and I'm averaging about 23 Miles Per Gallon which is way better than the 17/18 the Jeep got. Other creature comforts include Sirius Satellite Radio, Cruise Control, heated seats, an auxillary port for the MP3 player and a couple of other goodies. Pretty cool, and it's a lot of fun to drive. We have a neighbor that we've nicknamed Hans because well, we just have. When I say we here I am referring to us and the rumrunners. We've got a couple of good stories about Hans for later, but this morning I was leaving for work and I heard his truck crank up. His truck is kinda loud but not obnoxious or anything. When he leaves something sounded different. He drove down the street and back up and when I looked out the window Hans had pulled up to the driveway and was checking out the new Charger. If Hans and his wife Evil M weren't such snobs a trip around the block or opening it up wouldn't be out of the question, but they are so they get to stare in awe.
At any rate, this is our exciting news this week. To say the least I've been excited, thrilled, and driving to work pretty much rules now.